Eating out is one of the great joys in life! However, when you're following the Paleo diet plan, you may think that your days of dining in restaurants are over. Nothing could be further from the truth.
So long as you're smart and do your research, you'll discover that there are plenty of Paleo restaurants out there. Within this guide, we're going to share 10 of the best restaurant options and provide some handy tips to get you started.
Best Diner Paleo Restaurant: Denny's
Denny's is the American diner-style restaurant we all know and love. Suiting a range of crowds, these eateries offer a variety of tasty meals for people on-the-go. From burgers and salads to sandwiches and even a value menu — there's something for everyone. What's more, you can easily order from Denny's main menu while adhering to the Paleo diet rules.
Price range: Around $5-$15
Breakfast option: Philly Cheesesteak Omelette (without the cheese or muffin)
Healthy salad option: Caesar Salad (with chicken add-on and no dressing or bacon)
Veggie-heavy option: Veggie Sizzlin' Skillet (without potatoes)
As the name suggests, this one is an Australian-themed steakhouse that delivers meat with some serious flavor. It also happens to be a great Paleo restaurant to visit when you're following your diet. The menu is diverse and protein-heavy. Plus, to make things easier, you can make changes to any of the items to suit your dietary needs.
Price range: Around $10-$30
Protein-packed option: Seasoned and Seared Prime Rib (with baked sweet potato and fresh seasonal mixed veggies sides)
Seafood option: Perfectly Grilled Salmon (with fresh mixed veggies)
Lunch option: Endless Soup & Salad
Best Lunch-Time Paleo Restaurant: Panera
Looking for something quick and easy? Panera is the place for you. While the majority of the menu is bread-heavy — unsurprisingly, since the restaurant's name means "breadbasket" — you can still find Paleo-friendly dishes there. However, you'll have to flip to the "Salads" section of the menu when visiting this eatery. Many of the dishes in this section are already Paleo-friendly. Keep in mind that you may have to make some small modifications as well.
Price range: Around $5-$10
Classic option: Green Goddess Cobb Salad with Chicken
Low carbs option: Greek Salad (without feta)
Vitamin-packed option: Seasonal Greens Salad
Best Grill Paleo Restaurant: Bonefish Grill
Next up, we've got a traditional grill house. The Bonefish Grill is one of the lesser-known Paleo restaurants but they have a range of meals from which to choose. Take advantage of the fact that their menu is rather fish and meat heavy. You can order mains without sides or slightly alter salads so that they fit within the rules of your diet plan. Simple.
Price range: Around $15
Protein-heavy option: Ahi Tuna Steak
Brunch option: Oscar Omelet (without cheese or toast)
Classic option: Bonefish House Salad (without the citrus herb vinaigrette)
Best Fast Food Paleo Restaurant: Five Guys
Craving some Paleo fast food? When it comes to casual eateries, you can't go far wrong with Five Guys. The fast food chain is one of the most popular in the US and for good reason. Offering tasty burgers, loads of fries, and refreshing drinks, there's so much to love here. Believe it or not, the eatery is also one of the best Paleo restaurants — so long as you make some minor alterations. Here's how you can get it right…
Price range: Around $5-$10
Simple option: Hamburger (without the bun) with grilled mushrooms
Protein-heavy option: Bacon Burger (without the bun)
Vegetarian option: Veggie Sandwich (without the bun)
Best Asian Paleo Restaurant: Panda Express
If you have a love of Asian cuisine but still want to reap the Paleo diet benefits, we hear you. Luckily, there are a few restaurants that will cater to your needs. If you head to Panda Express, you'll find that there are some Paleo-friendly dishes on the menu. However, you may have to change a few components to align with your diet plan. Once you've done that, you can enjoy your favorite Asian-inspired dishes without ruining your diet.
Price range: Around $5-$10
Meaty option: Broccoli Beef (without soy sauce)
Healthy veggie option: Super Greens
Lunch time option: Mushroom Chicken (without soy sauce)
Best Seafood Paleo Restaurant: Red Lobster
Fancy some delectable seafood? Red Lobster has you covered. The chain restaurant offers a vast range of delicious dishes, many of which can be slightly tweaked to make them Paleo-friendly. When you're eating at this restaurant, make sure you read the menu carefully. Many of the sauces don't align with the diet's guidelines, and so you'll need to ask for your meals without them.
Price range: Around $10-$20
Low-carb option: Rock Lobster Tail with fresh seasonal asparagus
Meaty option: 7oz. Sirloin Steak with fresh broccoli (without mash)
Lighter option: Wild-Caught Flounder (oven broiled) with fresh seasonal asparagus
Best Salad Paleo Restaurant: sweetgreen
Sometimes, all you want is a delicious, fresh salad. If you're on the East Coast, you can't go wrong with a bowl from sweetgreen. While there are many dishes that you can order from their main menu, the unique thing about this restaurant is that you can make your own salads too. That means that it's one of the best Paleo fast food restaurants out there. Either make some changes to menu items or create an original dish.
Price range: Around $10
Warm bowl option: Fish Taco (without tortilla chips, quinoa, or sauce)
Healthy salad option: Guacamole Greens (without tortilla chips)
Creative option: Make-Your-Own
Tip: If you're on the West Coast and fancy a green salad, you can check out Chop Stop. Their menu is packed with Paleo-friendly dishes. Ask your server for their recommendations!
Best Burger Paleo Restaurant: Red Robin
There are few things in life more satisfying than a deliciously, juicy burger. If you're on the hunt for Paleo restaurants that serve burgers, look no further than Red Robin. The US chain offers gourmet burgers, salads and a whole lot more. Ordering from this eatery is rather easy for anybody following the diet plan since there are loads of options.
Price range: Around $10
Protein-heavy option: Sear-ious Salmon with bottomless broccoli (without salsa)
Classic option: Keep It Simple Beef Burger (without the bun or tomatoes)
Veggie-packed option: The Wedgie Burger with Lettuce Bun (without tomatoes)
Best Family Paleo Restaurant: Applebee's
Eating out with your family? It can be tricky to find a restaurant that suits everyone's tastes and aligns with the Paleo diet. Luckily, Applebee's fits the bill perfectly. The beloved chain restaurant offers a whole array of budget-friendly deals as well as delectable dishes. If you're looking for some comfort food that also happens to work with your meal plan, you might just have found it. There are plenty of Paleo options from which to choose.
Price range: Around $10-$15
Meaty option: 8 oz. Sirloin Steak with two sides of steamed broccoli
Lighter option: Cedar Grilled Lemon Chicken (replace the quinoa with steamed broccoli)
Salad option: Grilled Chicken Salad (without the cheese or dressing)
3 Simple Tips for Ordering Paleo Food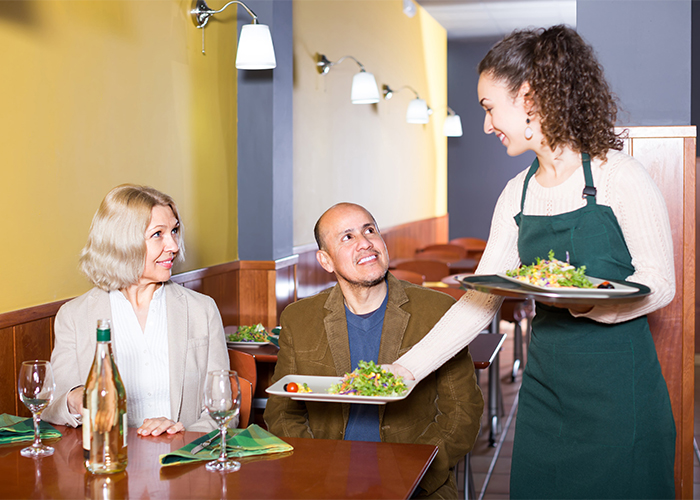 Now that you have got the inside scoop on some of the best Paleo restaurants in the US, let's talk about ordering your meals. When you head to any of the above eateries, you need to be extra careful about what you choose. Since you're not making the dishes from scratch at home, you can't always be sure what ingredients they contain. With that in mind, here are three tips to keep in mind when ordering your Paleo-friendly meals.
Be careful with sauces
Sauces can make your meals taste fantastic. However, when you're following the Paleo diet plan, you need to be extra careful about the sauces that you consume. These extras can contain non-Paleo ingredients, which means that you will end up accidentally ruining your diet plan.
Ask the server what's in each sauce before ordering. Alternately, you can simply skip extra sauces altogether and save yourself some hassle.
Make small changes to dishes
Let's face it — many standard menus don't align with the Paleo diet. For that reason, you have to make small changes to some of the meals. When you're looking at items, consider which ingredients fit the plan's guidelines and which do not. Speak to your server about making alterations to your meal and figuring out what works for you.
With most national chains, you should find that the staff members have no problem with you swapping items.
Ask lots of questions
To make sure that your Paleo diet is healthy, you have to be as strict as possible. Some menus don't list all of the ingredients in meals and sides. That could cause you a serious problem when it comes to following your meal plan.
A simple way to get around this issue is to ask your server a whole load of questions. Let them know that you're following the diet. You can also ask them for recommendations if you need some extra guidance.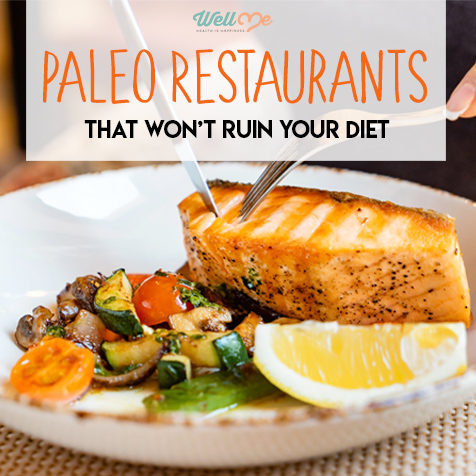 Are You Hungry Now?
As you can see here, there are loads of Paleo restaurants in which you can dine. Why not get started and book yourself a table today?
Check out some of the excellent eateries we've listed here or do some research of your own. You're sure to find something that suits your taste buds and aligns with your diet plan.