Do you feel like no matter how much time you spend at the gym, you just don't see results? Or maybe, you just don't know how to stay motivated and track your progress through your hectic days. We've all been there. That's where workout apps for women come in. From workout tracker apps to those targeted at specific workouts, there's something for everyone — no matter your fitness goals.
A workout app can do a few different things to totally kick-start your routine. First, some can actually motivate you to get to the gym with inspirational messages throughout the day. Second, they may help you set goals and have premade workouts ready to use (with helpful instruction videos). Third, some help you track your progress and thus support you in accomplishing your long-term goals.
Say goodbye to the days of feeling blasé with your gym or home routine. Let these apps give a boost of energy in your workouts and order to your life. The proof will be in your results.
Are Workout Apps for Women Worth Using?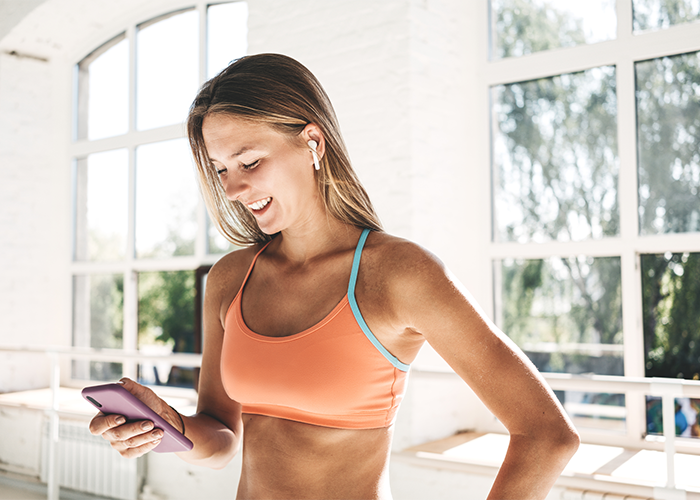 We get it — it seems like more work to actually download an app to use for working out, right? The thing is, workout apps for women actually feel like a huge support system in the palm of your hand.
Here's how to see if a workout app for women might be for you:
Do you need some extra guidance on what routines to do?
Do you want weekly or daily programs at your fingertips?
Will you need to be held accountable in order to push yourself more, or thrive with an interactive community to support you?
Do you want to write down your weight or times after each session to view your progression with time?
If you answered yes to any of these questions, one of the many workout apps for women might be good for you. In the end, the choice is yours. But don't take it from us, keep reading to learn about the best workout apps for women around and what real users are saying about them.
Remember: No one ever conquered the world on their own! If you can't afford a personal trainer or a fancy gym membership, maybe an app is all you need. Keep in mind, getting that extra push might be the difference between sitting on the couch and getting fit!
The Best Tabata Workout App: Tabata Timer – Interval Timer Workout Timer HIIT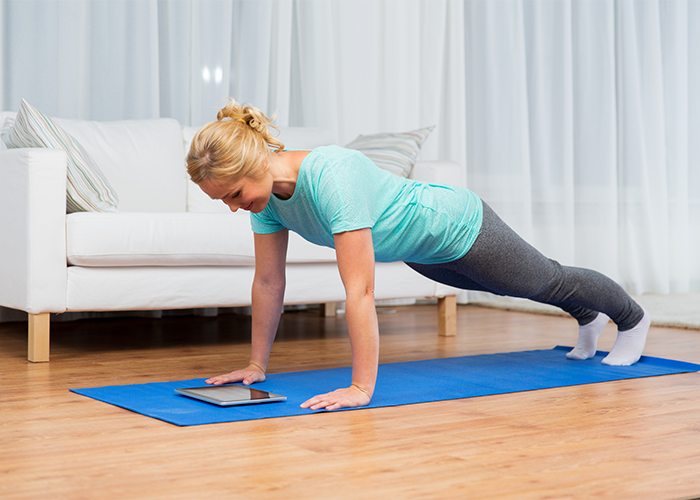 What is Tabata, anyway? Well, it's a high-intensity exercise that's perfect for those looking for a short but effective workout.[1] It consists of HIIT-style moves that actually help you lose weight, improve blood pressure, and increase anaerobic plus aerobic fitness levels quickly.[2]
App Description
The Tabata Timer app is efficient in helping you do your workout with minimal interferences. First of all, you can input the number of sets or cycles you want, how much rest time between sets, and cooldown time too. This is great for women who like to mix it up or might need a less intense version of Tabata during your period. Also, it lets you play your music in the background at the same time, which is a huge plus if you need to jam out when you're in the zone.
Price: Free, although you can pay to upgrade your account
Works on: Android & Apple
User Reviews: One user agreed on the flexibility of the app and said: "This timer is far more customizable than my old app. The free version allows you to configure 2 workout intervals. It's nice to be able to configure when alerts are made and select sounds."[3]
Get it on: Google Play App Store and Apple App Store
The Best Treadmill Workout App: Nike + Run Club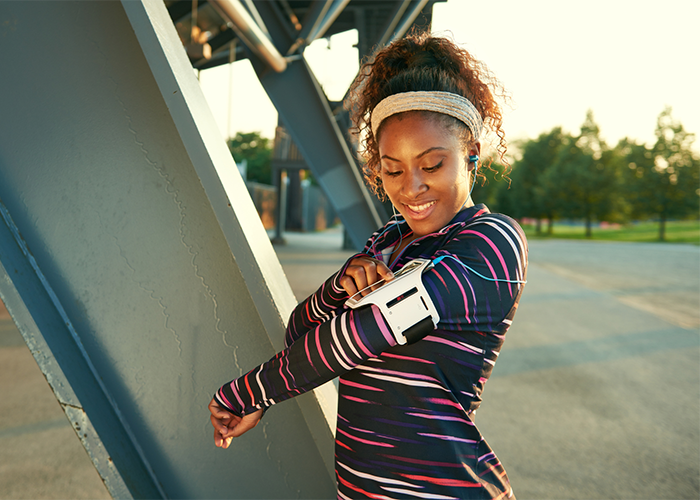 Hey, hopping on the treadmill doesn't have to be boring! Whether you're interested in a short jog, or you're a more seasoned runner, there are some great ways to amp up your treadmill session. Learn how to mix it up with the Nike + Run Club app!
App Description
If you like running both on and off the treadmill, the Nike + Run Club app is great for you. Not only does it allow you to mix up your workout with audio coaches, but it also lets you post to leaderboards to compete with other users. Plus, it tracks your runs with GPS and creates challenges for you too so you'll never feel like running is boring ever again!
Price: Free, although you can pay to upgrade your account
Works on: Android & Apple
User Reviews: While the basic version is free, the upgrades might be worth it. One user said, "I have been using the NRC for 7 years and has helped me from walking to running at no time. Every upgrade gets closer to what a runner needs."[4]
Get it on: Google Play App Store and Apple App Store
The Best Workout Tracker App (Workout Log App): MyFitnessPal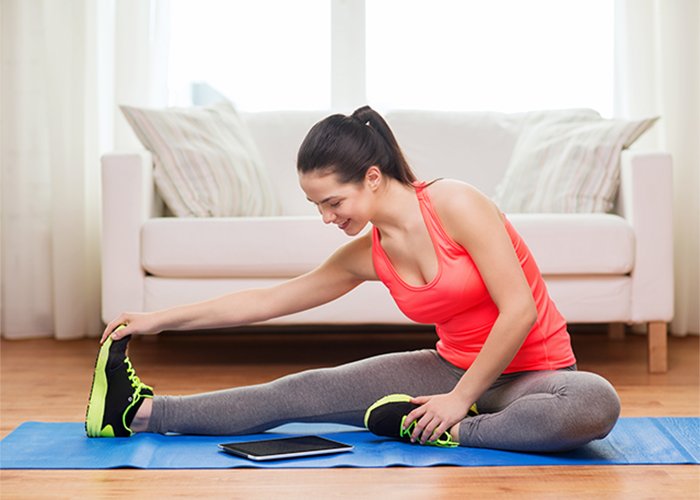 Tracking your workouts can be pivotal if you want to see results. This way, when looking back on your time, you'll notice which workouts are better for reaching your goals. As such, a workout tracker app is a must-have app you'll want to download ASAP!
App Description
MyFitnessPal is actually marketed as a calorie counter — but it's so much more than that. It's perfect for anyone who want to log their daily food and workout routines in a simple yet comprehensive format. Along with tracking calories and macros, it doubles as a workout tracker app. It makes it simple for you to track your progress by selecting the relevant options in the app or by writing in your own stats.
Price: Free, although you can pay to upgrade your account
Works on: Android & Apple
User Reviews: As summarized by one user, the app effectively "1) Communicates with my Fitbit and incorporates that data into daily food analysis. 2) Makes it easy for me to know exactly where I stand throughout the day regarding calories taken in and calories out (burned). 3) Takes the hassle & guesswork out of keeping accurate, honest food diary by providing nutrition numbers for not only for food types but food brands."
Get it on: Google Play App Store and Apple App Store
Tip: Most work apps for women start out free, but require a paid upgrade or plan to get the full experience. Don't be afraid to spend some money if the app has already done wonders for you. Chances are the upgrade will be worth it.
The Best App for Getting the Abs of Your Dreams: Instant Abs – Workout Trainer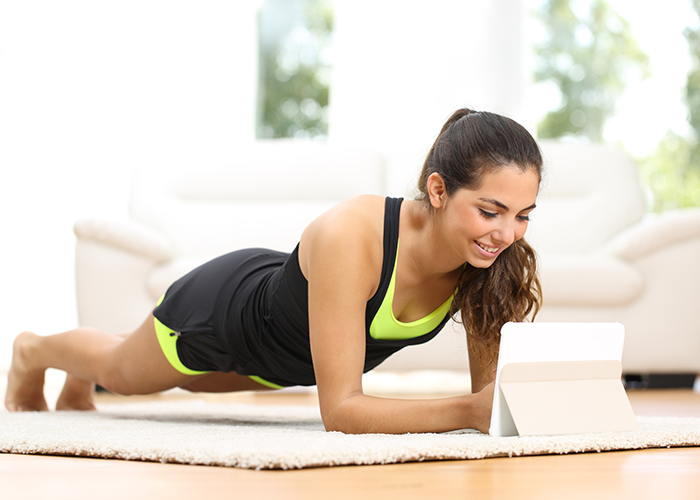 Can you say "six-pack"? If you've always wanted abs but don't know how to get out of the rut of standard crunches, you might want some extra help. Remember, if you want it enough and have the right support it can become your reality.
App Description
Not to name drop here, but Kendall Jenner recommended Instant Abs-Workout Trainer app as her go-to for ab workouts. This app boasts a 6-week process that will give you curated workouts plus instructional videos. Because the correct form is so important with ab workouts to prevent any injuries for your lower back, that's a great indication the app produces results and cares about your health.
Price: Free, although you can pay to upgrade your account

Works on: Apple
User Reviews: This app is good for you no matter where you're at in your ab journey. One user remarked that "it gives you workouts that you can work up to at your level. They are intense but also give you the results you want, as long as you work for it."[5]
Get it on: Apple App Store
The Best Female Fitness Community App: Sweat – Kayla Itsines Fitness
So, you're the type of person who needs a group to hold you accountable? Well, you're in luck as there is a huge community out there of female fitness lovers waiting to encourage you. Workout apps for women allow you to really incorporate fitness into your lifestyle with other social media apps and online content. It's one way to really take the first step in changing your life for a healthier future.
App Description
The Sweat app is great because it's just a part of a whole system. Basically, the app tracks your progress with the BBG workout program. Along with that, it's part of a larger female community that is active on Instagram sharing their success stories. While the price is definitely more than a standard app, it comes with the training plan and is part of a larger lifestyle system.
Price: $19.99 per month
Works on: Android & Apple
User Reviews: Users rave about weight loss and more toned bodies. It's even easy from home as one person wrote, "I have loved using this app! It makes it so easy to get a workout in, and I love that I can do the original BBG program from home. It is so hard to get to the gym with small children."[6]
Get it on: Google Play App Store and Apple App Store
The Best Yoga App For Mindful Practice: Find What Feels Good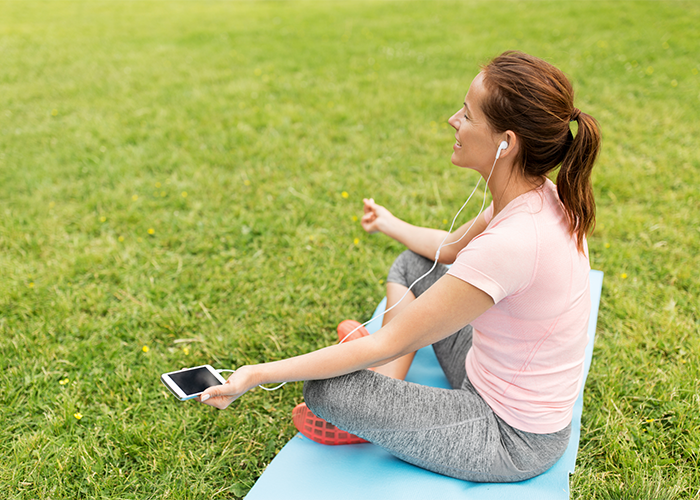 Yoga is more than just sitting down on your matt and stretching, it's about being present for yourself and clearing your mind. Whether you want to try yoga for the very first time, or you're a yoga teacher at your neighborhood studio, an app can seriously help you find the motivation and excitement in solo yoga.
App Description
The Find What Feels Good app is built around Adriane, one of the best-known yoga teachers on YouTube. On the app, you'll get access to more classes that are unavailable on youtube, plus meditations and a whole community of women who enjoy an authentic and playful approach to yoga.
Price: Free
Works on: Apple
User Reviews: Like the Sweat app, this app comes with a larger community on top of it. One user said, "The app is amazing and you get practices that aren't available on YouTube, it's a wonderful tool to help extend and deepen your practice. I also enjoy the guided meditations available within the app."[7]
Get it on: Apple App Store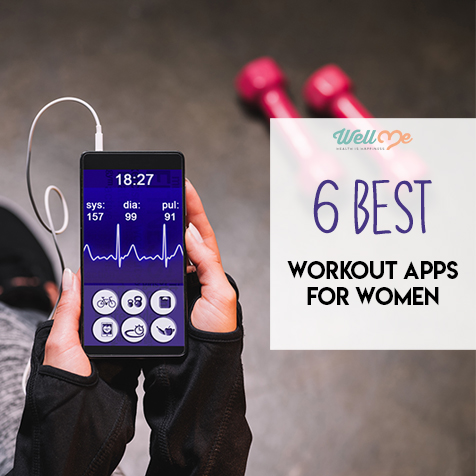 Conclusion
While you might have never tried out a workout app before, they might be what you need to take your training to the next level. Workout apps for women are a great way to get tools and tips that specifically address your needs. All you really need to get started on a better you is your phone, your motivation, and your gym clothes.

References