Starting any new meal plan means changing the way you cook and, indeed, eat. If you're new to the Keto diet, you will have to adapt your culinary style to suit its guidelines. Why not begin by learning some quick and easy Ketogenic lunch recipes? Once you've got a few of them under your belt, making a yummy meal will become second nature.
Luckily, if you're on the hunt for a satisfying recipe, you've come to the right place. In this brief guide, we'll take a look at how you can make your own Keto stuffed peppers from scratch. Whip out your pen and paper… You might want to take notes!
What are Keto Stuffed Peppers?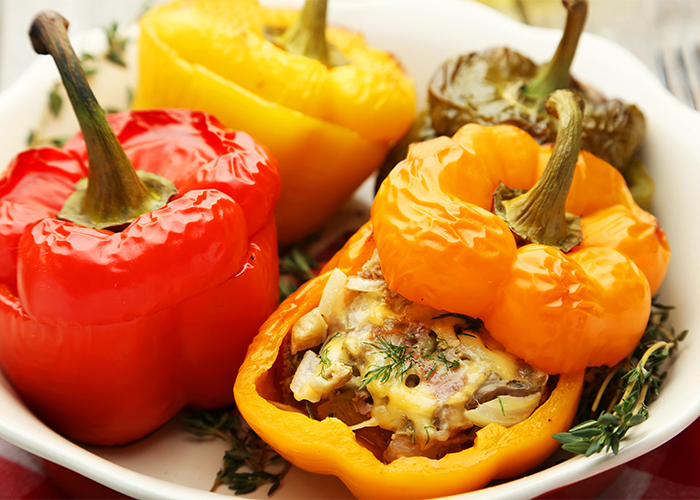 When you're following the Keto plan, the diet guidelines dictate that you need to consume fewer than 50g of digestible carbs each day. For many people, this change will be a real struggle, especially if you're used to using carbs as the base for your daily meals.
Rather than fueling up on carb-heavy ingredients, such as bread, rice, and wheat, you'll have to find Keto-friendly alternatives. That means your diet will likely consist of mainly meat, fish, dairy products, and eggs along with some healthful fruit and vegetables too.
Finding lunch and dinner options can be tricky when you first start out. You'll need to choose recipes that focus on meat, fish, and vegetables. For example, a meatilicious Keto chili would fit the bill perfectly. With that in mind, our Keto stuffed peppers recipes might be the perfect meal for your diet plan.
Packed with lean turkey meat, delectable spices, and topped with cheese and chives, you can't go wrong. What's more, unlike some stuffed pepper recipes, this one doesn't include any rice. That makes cutting back on your carb intake ultra-easy.
Following our simple instructions will take you less than an hour and — before you know it — you'll be chowing down on some delicious food.
As a bonus, this recipe includes some Keto-friendly spices to give the peppers extra zing!
Nicely-Spiced Keto Stuffed Peppers Recipe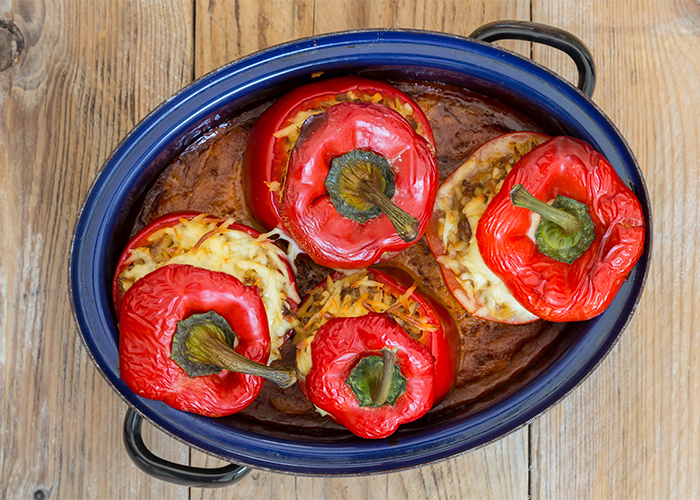 Fancy whipping up some Keto stuffed peppers for yourself? This recipe couldn't be easier.
Prep Time: 25-30 mins | Cook Time: 30 mins | Serves: 6
Calories per serving: 351 kcal | Equipment: Chopping board, knife, large pot, skillet, spoon, and large baking tray
Ingredients
6 bell peppers
2 sliced large onions
1 tsp olive oil
450g turkey mince
50g sliced bacon
⅓ cup chicken broth
1 tsp chili powder
1 tsp paprika
1 tsp garlic powder
1 tsp oregano
1 tsp tomato paste
100g chopped scallions
1 tsp chives
200g shredded cheddar cheese
Instructions
Preheat your oven to 375 °F.
Wash the bell peppers. Cut off the tops of the peppers and remove any seeds inside.
Pour the chicken stock into a large pot and place on medium heat. Add the chili powder, paprika, garlic powder, oregano, and tomato paste. Stir well until combined. Set aside.
Put some olive oil in a large skillet and put it on medium heat. Add the onion cubes and sliced bacon. Cook for two minutes or until the onion cubes are translucent.
Add the turkey mince and cook for 10-15 minutes, stirring regularly.
When the meat is brown, add your chicken stock mixture to the skillet. Turn up the heat and allow the liquid to simmer. Leave for 10 minutes or until the liquid reduces.
Place the bell peppers in a large baking tray. Fill each pepper with an equal amount of the cooked turkey and bacon mixture. Place in the oven for 15 minutes.
Bring the peppers out of the oven and top with shredded cheese, scallions, and chives.
Put the tray back into the oven for a further 10 minutes or until the cheese has melted.

5 Reasons You'll Become Addicted to Making This Dish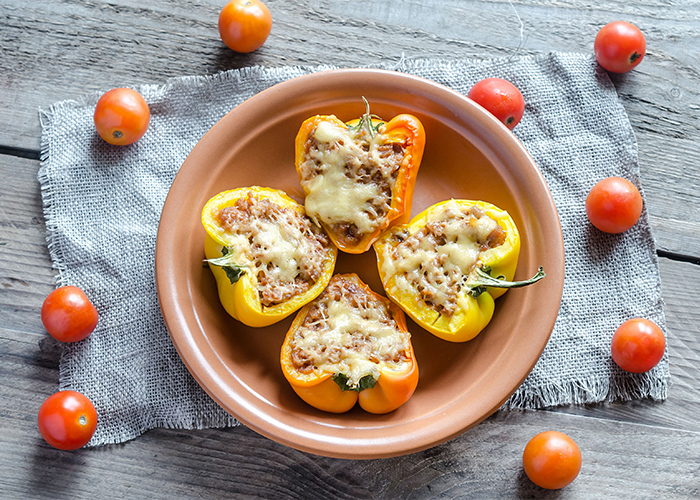 Needless to say, there's a whole load of Keto bell peppers recipes out there. So, why should you choose this one? We've gone to great lengths to make sure that this particular recipe is addictive and irresistable. Here are five reasons that you'll love making this dish once you decide to give it a whirl:
It's perfect for food-preppers
Do you lead a super busy life? If you hardly have time to cook during the week, food prepping is certain to be your secret weapon.
The key here is to make a large batch of something, such as a warming Keto broccoli and cheese soup, and divide it into portions. Since the Keto stuffed peppers already come in portions, they're idea for thisl. Simply put each pepper in a sealed container and pop it in the refrigerator for later.
It packs some serious flavor
If you want a little spice in your life, you're certain to fall head-over-heels in love with this Keto stuffed peppers recipe.
The chicken stock mixture infuses a range of fantastic spices that give it a satisfying taste. Of course, you can add whatever spices you happen to like to truly make the recipe your own.
Plus, when you cook the turkey meat in the stock, all of these flavors intensify. That means that the final product is extra delicious!
Super simple to make
Let's face it, nobody wants to spend hours in the kitchen each night! One of the biggest advantages of whipping up some Keto stuffed bell peppers is that they're easy. You don't need to be a pro chef to make this recipe.
In fact, most people will have no trouble making this dish regardless of their culinary skill levels. All you need to do is read through our straightforward guide and get started.
Feed the whole family!
Feeding an entire family can be a real struggle and often means bulk-cooking. A massive benefit of this Keto stuffed peppers recipe is that it can feed six people.
Use each bell pepper as the center of the meal and garnish with a side salad. The meat-heavy center of these dishes mean that they'll curb any hunger pangs in minutes! Once you learn the recipe here, you can use it time and time again as a simple weeknight meal.
It's all about the cheese
Are you a self-confessed cheese-aholic? If you love nothing more than tucking into a gooey, melted cheese dish, you need to try these Keto stuffed peppers. At the end of the recipe, you get to top each pepper with a large helping of cheddar cheese. The moment that you tuck into one of these stuffed bell peppers, you won't be disappointed.
3 Expert Tips to Keep in Mind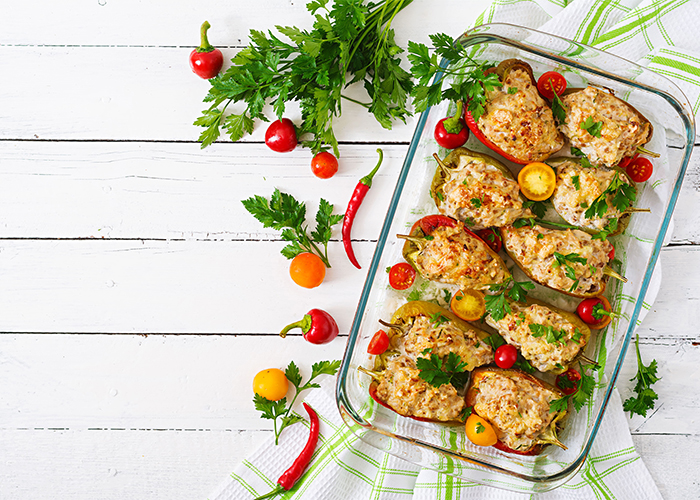 It's almost time to get cooking. But before you put on your chef's hat and head to your kitchen, we have a little more advice for you. To ensure that your Keto stuffed peppers are the best they can be, let's take a quick look at three expert tips:
1. Choose a lean meat
The heart of this Keto bell peppers recipe is meat. While we suggest using turkey mince, you should feel free to experiment with a whole range of options here.
As a golden rule, ensure that the meat you choose is as lean as possible. For example, you may want to opt for ground chicken breast or low-fat minced beef. Decide what works best for you.
2. Experiment with spices
Want to make your Keto stuffed peppers extra special? It's all about the spice!
Experimenting with a wide range of herbs and seasonings will ensure that you make a tasty meal. The first time you make this dish, you may want to follow the recipe exactly. However, once you've mastered it, you can go ahead and try out new flavors.
Like it extra hot? Swap out the bell peppers for large chili peppers! Poblano chili peppers are large enough to stuff, and just spicy enough to add some "kick" without overwhelming the other flavors.
3. Slow-cook the meat
If you have a little extra time to make this dish, you can take it to the next level. Why not slow-cook your meat in the chicken stock overnight? Doing so will mean that the flavors infuse more intensely and that the meat is mouth-wateringly good.
You can even use a slow-cooker and cook the turkey meat for as long as you please. Give it a shot!
Are You Ready?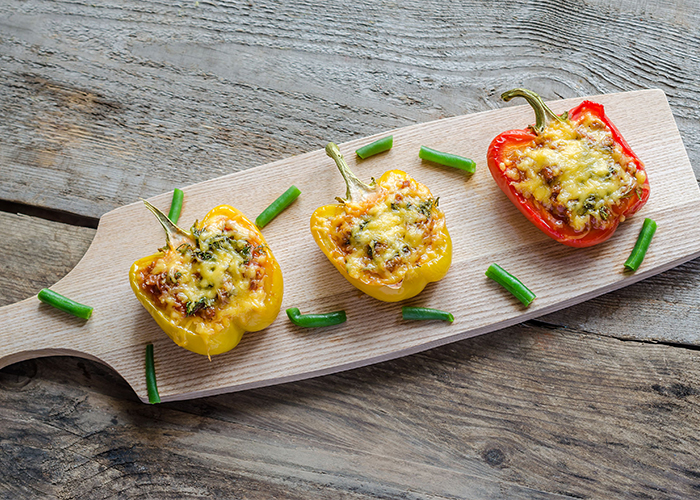 There's no doubt about it — finding the best ketogenic lunch recipes for your tastebuds can be a struggle. That's why these Keto stuffed peppers are sure to become one of your go-to meals. Not only is it a simple recipe but the yummy result will keep you coming back for more.
Learning this recipe will take you no time at all and it could be a real game-changer.
Filled with meaty, cheesy goodness, there's oh-so-much to love when it comes to this dish. And don't forget that you can swap around some of the ingredients to suit your personal tastes or food goals. Nothing could be easier! Now that you understand the basic recipe, what are you waiting for? Try it today.