When the sun rises and your alarm rings, you need to start the day right. Finding delectable Ketogenic breakfast recipes that are quick and easy needn't be a problem. We've got a real treat for you here — an uber-colorful, tasty Keto breakfast bowl. Here's what you need to know.
What is a Keto Breakfast Bowl?
Put simply, a Keto breakfast bowl is exactly what it says on the tin. It's a bowl comprised of different ingredients, all of which align to the Ketogenic diet plan. While a plate of bacon and eggs may help you start the day when you're in need of a feast, a bowl is a more relaxed, leisurely option. Whip yourself one up on a lazy Sunday morning!
Why Should You Start Making Them Regularly?
Making your own Keto breakfast bowl could not be easier. The whole thing takes less than half an hour which is a major bonus. Much like our epic breakfast pizza recipe, this is one that you should always have in your back pocket. Making variations of the bowl when you have the time will mean that your Keto diet plan is never, ever boring.
Bountiful Keto Breakfast Bowl Recipe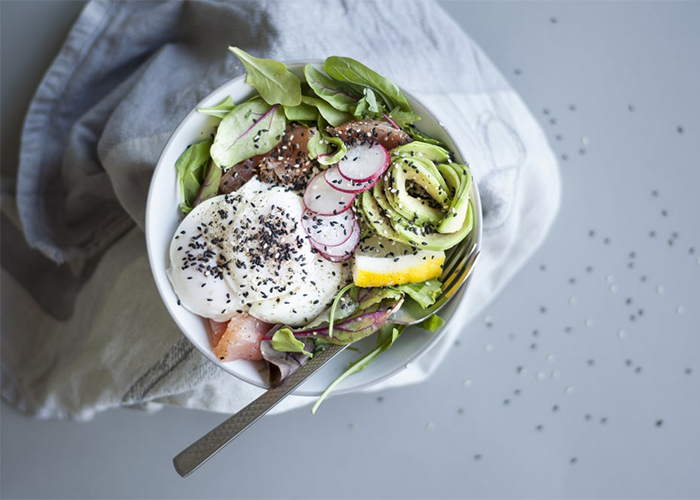 Prep Time: 5 mins | Cook Time: 15-20 mins | Serves: 2
Calories per serve: 328 kcal | Equipment: Pan, poaching bags, skillet, spatula, paper towels, knife, chopping board, three bowls, and spoon
Ingredients
2 large eggs
3 cups arugula leaves
3 cups spinach
1 cup bell peppers
2 tsp extra virgin olive oil
1 tsp chili powder
1 tsp garlic powder
4 slices turkey bacon
1 tsp sesame seeds
Sea salt (to taste)
Instructions
Put some water in a medium pan and then bring it to the boil. When the water is boiling, crack the eggs into separate poaching bags and put them in the pan. Leave for three or four minutes then take the bags out and leave to rest.
Pour ½ tablespoon into a skillet and put it on a medium heat. Add the turkey bacon to the skillet and cook for five minutes on each side, flipping regularly. When the meat is fully cooked, set it aside on some paper towels.
Chop the bell peppers into strips and add them to the already heated skillet. Cook for around three minutes, until soft.
In a bowl, mix the rest of the extra virgin olive oil with some garlic and chili powder.
Wash the arugula and spinach and drain. Use the olive oil mixture to dress the leaves.
Create your Keto breakfast bowls! Start by putting the leaves in the bottom of each bowl, add the poached eggs, cooked turkey bacon, and bell peppers to the mix.
Use salt to season. Sprinkle on some sesame seeds for extra texture. Enjoy.

Tips For Making Your Dream Bowl
Avoid using too much oil
While the Keto diet is about high-fat ingredients, you don't want to use too much oil here. Whether you're making the bacon or cooking your peppers, the oil that you use should be minimal in your Keto breakfast bowl.
Add some texture
The secret to an epic Keto breakfast bowl is texture. Make sure that you add some to your recipe. For example, you could include some extra vegetables or a few raw components. You could even eat some Keto breakfast cookies after if you're looking for some extra crunch!
Season well!
The magic is in the seasoning here. Whenever you're creating Keto breakfast bowl recipes, you have to consider what flavors to use. In this recipe, we've used garlic and chili powder. However, you can experiment to create a new Keto breakfast bowl dressing.